A Society has developed an Automating Software Development Cycle for cost savings, that we offer in three phases, either sequential or independently.
1. Prestudy and/or Audit
2. Proposal based on the outcome of the Prestudy/Audit
3. Implementation
1. Prestudy (map and evaluate current situation)
Identifying development cycles resulting in delayed product releases.
Process Analysis (identifying bottlenecks, inefficiencies, and areas for improvement)
Manual and error-prone processes causing inefficiencies and increased costs.
Inconsistent deployment practices leading to operational issues.
High maintenance costs for legacy systems.
Lack of real-time monitoring and reporting.
Is the software development aligned with your company's vision and strategies.
Provide a detailed analysis of expected Return on Investment (ROI) from the automation initiative.
2. Proposal (Samples areas, but not limited to the following.
Tool Selection:
Identify and recommend appropriate automation tools and technologies to streamline various aspects of the software development cycle.
Automated Testing:
Implement automated testing methodologies to detect and resolve issues earlier in the development process, reducing bug-fixing costs.
Continuous Integration/Continuous Deployment (CI/CD):
Set up a robust CI/CD pipeline to enable faster, reliable, and automated code deployments, reducing the time-to-market for new features and updates.
Containerization:
Implement containerization to enable seamless application deployment and scaling, reducing infrastructure costs.
Monitoring and Reporting:
Integrate real-time monitoring and reporting tools to proactively identify performance issues and optimize resource utilization.
Business Agility:
Agile software development processes will allow the organization to adapt quickly to market demands and changing requirements.
3. Implementation Plan
We will present an implementation plan with timelines, milestones, and resource requirements for the automation project.
The implementation plan will also consider potential risks and mitigation strategies to ensure a smooth transition.
Outcome and Benefits
Efficiency:
Streamlined processes and automation will accelerate software development and deployment, leading to faster time-to-market and increased productivity.
Quality:
Automated testing and continuous integration will ensure higher software quality, resulting in reduced post-release bug-fixing costs.
Productivity:
Containerization and automated resource management will optimize infrastructure usage, lowering operational expenses.
Profitability:
Automation will lead to reduced manual effort, minimizing human errors, and lowering development and maintenance costs resulting in overall cost savings.
Evaluation:
After the implementation phase completed, and the improvements are up and running, we will evaluate the cost savings achieved.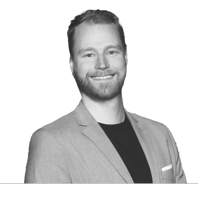 Questions? Please don't hesitate to get in touch with any of us.
Linus Eklund
linus.eklund@asocietygroup.com
Filip Rosander
CEO North America
filip.rosander@asocietygroup.com